ABOUT
Koby Martin is a Ghanaian born British based Artist.
ARTIST STATEMENT & CLIENT LIST
A proud export of Ghana, His talent and God-given gift was nurtured in his motherland and polished in the United Kingdom. These worlds merge together in his art where traits his African descent and life in Europe thus far, can be seen as a consistent influence in the narratives of his pieces.

Koby's work is an introspective autobiographical exploration of his life as he believes knowing of self is pivotal in the exploration of any subject matter, as it trickles down in the perspective of the psychological and physical things we experience daily. His work portrays the inclusive human experience of dealing with emotions, memories, thoughts and feelings that we all undeniably feel. As his work evolves, it also tends to tackle various subject matters outside of his default conversations; including topics such as identity, social and racial injustice; thereby reflecting the epochs of the past and documenting the events of the current times.
Through emotive figures, subjects and abstract forms, he captures beautifully the duality of courage and sadness within the figures body language; whilst using space and setting (e.g. the walls) to communicate events that have taken place. Some with or without the use of subjects and others with relatable elements, objects and symbols; such as 'Adinkra symbols' which are from Ghana.
The Adinkra symbols were largely used on pottery, stools etc. They represent concepts or aphorisms and are used extensively in fabrics, logos and pottery. They are also often incorporated into walls and other architectural features. Koby uses these symbols to add meaning and bring life to the juxtapositions of the subjects in his pieces, whilst continuing the conversations of his culture and heritage to the compositions of his pieces. Themes and concepts of family, migration, memory, and emotions mark the central basis of everything created. He dives into these subjects, using his life as a leading example as it is influenced and shaped by his experience and convergence of these two worlds; a reflection on the nature of his African background, as it meets with the Western and Contemporary practices of his craft.
Koby has always been intrigued by the idea of what existed before we come into contact with it. The history and memory of information documented, such as the use of secondary sourced materials; from family photo albums, and sometimes magazines, posters, etc. juxtaposed against acrylic, and oil pastels, to communicate a period of time, location and setting. These techniques in Koby's craft serves as opening for the dialogue of evoking conversations of one's identity and origin combined with the marriage of various mediums, thereby telling lost narratives as well as discovering new ones to create exciting works.
Throughout his career, Koby has been responsible for various creative contents on a global level for artists including Krept & Konan, Wizkid, J Hus, Wretch 32, Chronixx, Tinie Tempah and many more. Koby's also worked with multiple brands on various projects including Nike, Adidas, Universal Music, 0207/DefJam, Barcardi, House Of Marley, Native Magazine, Virgin Records, and Mercedes Benz just to mention a few.
The latter of which featured Koby's artwork painted on a limited edition fleet of Mercedes Smart Cars as well as his own limited watch collaboration with Singaporean luxury brand, LyttLabs. He also worked on J Hus's clothing line and capsule collection: "The Ugliest" where he coined the designs for the scarfs and the lining of the jackets.
He has also gone ahead to have yearly exhibitions since 2014 with various galleries all over the UK and internationally. He's had the opportunity to collaborate with the British Council and The British High Commission; to which he was commissioned to create a live painting at the 2019 Afrochella concert, at the El Wak stadium in Accra, Ghana.
His collaboration in August, 2020 , had him in a live painting session with Tate Collective & My Runway Group called "Home Is Where The Heart Is", where he was commissioned to create a painting which addressed the issue of overcoming anxiety. In the same year, he further went on to be an ambassador for the legendary, American, streetwear brand Karl Kani; where he was chosen to represent the clothing brand for the campaign "Can I" which was featured by Highesnobiety.
A year later Koby was selected by the Tate to be on an online panel to discuss the exploration of current painting practices. A talk that was inspired by Lynette Yiadom Boakye's paintings and ongoing exhibition at the Tate Britain- 'Fly In The League With The Night'. A few months later, a collaboration between Tate Collective and Bankside London was launched. It involved Koby being commissioned to create his first public art in the Tate Modern Bankside area.
The concept of his creation explored the history of performance, theatre and music of the area. His wall piece Spotlight Dreams depicted men who performed as women on stage at a time when women were not allowed to act. He made use of the Ghanaian Adinkra symbol funtunfunefu denkyemfunefu (Siamese Crocodile), which represents unity - an overarching theme if work. The pieces he created have been slated to be in the space until further notice.
In 2022, Koby designed and directed Ghanaian International Artist, Kwesi Arthur's highly anticipated album 'Son Of Jacob' which was curated by Ground Up Chale; a creative house for up and coming talent Ghana. In the same year of August 2022, Koby was commissioned to create a globe piece for the city of Newham. He was assigned to meet with the community to discuss and explore the racial and social journey of the region.
This was a collaboration was with The World Reimagined, JP Morgan and championed by Yinka Shonibare CBE. The piece he created was launched at the Westminster Abbey and later gifted to the community, where it sits in the area of Newham, Broadway, Stratford.
In 2023, after his successful group exhibition in Los Angeles with Goodmother gallery, Koby was invited by Gagosian's Associate Director, Peju Oshin to exhibit in the yearly prestigious ING DISCERNING EYE exhibition at the Mall Gallery.
He further went on to be commissioned by Peckham Platform where he was assigned to lead a six day workshop with young individuals at the Southwark Youth Justice Service. This eventually led to the creation of a mural Titled : "Unity inDiversity" which can be located in the East Dulwich / Goose Green area.
It is a mural which depicts a dramaticatmosphere of clouds in pink - a colour which is consistent and visuallypresent in Koby's work. The composition of the mural comes together to comprise ofa pair of various hands having a dialogue, piecing together puzzle parts of anAdinkra symbol.

The symbolknown as 'funtunfunefu denkyemfunefu' (Siamese Crocodile) is a Ghanaian Adinkrasymbol originating from Koby's culture and heritage which is often used asmotifs in his visual language. Positioned in the centre of the mural alsodepicts the full final piece of the Adinkra symbol.
Koby also references the personification givento the expression of each hand from a series of allusions such as PhilipGuston's The Line, Michelangelo's 'The Creation of Adam' and "The Annunciationby Bartolomé Esteban Murillo.
As of now, Koby is currently undertaking a one year residency with Sarabande, a charity established by Lee Alexander McQueen, where he hopes to further nurture his practice whiles pushing the boundaries of his narratives, visual language as well as mediums.
In 2013, Koby founded Kobmart as a platform to exhibit his works and manage his day to day activities as an artist.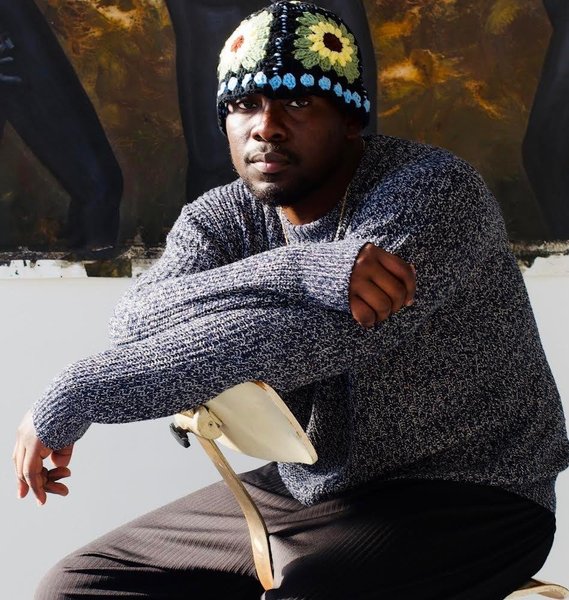 Subscribe to My Mailing List
Sign up with your email address to receive news and updates on paintings, exhibitions and collaborations.